Term Dates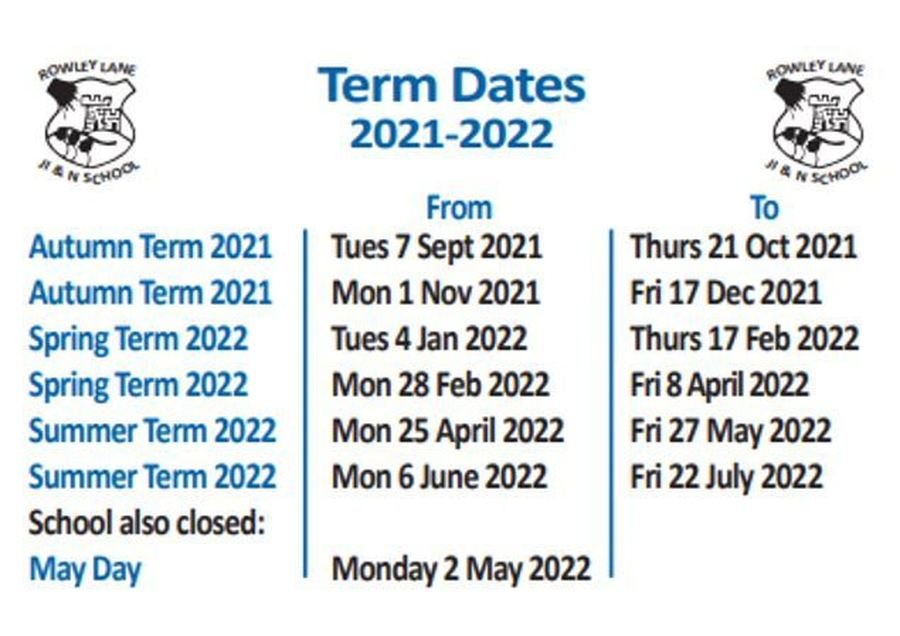 Whilst under COVID Restrictions we are operating staggered start and end times for different year groups.
Where you have 2 or more children at different times, please use the mid point between these times.
Please stick to these timings to support social distancing and reduce congestion within the school grounds - thank you for your support.
Year groups with timings 8:45am - 3pm Reception, Year 2 and Year 5
Year groups with timings 9am - 3:15pm Year 4 and Year 6
Year groups with timings 9:15 - 3:30pm Nursery, Year 1 and Year 3
Under normal circumstances:
Important Timings in Term Time:
REACH & Pre-School Open 7:30am
Drop off Zone (for Y3 upwards): 8:30am - 8:45am Please note children are not directly supervised in grounds but staff are available if needed.
School doors open: 8:50am
Register opens: 8:55am
Register closes: 9:00am Arrival after this time will result in a late mark.
End of Nursery Morning session: 12:00pm
Beginning of Nursery afternoon session: 12:15pm
End of school day: 3:15pm
Extended Day Club ends 4:15pm
REACH & Pre-School Close 6:00pm
REACH Holiday Club is open from 8am - 5:30pm
REACH holiday club will open every INSET day and holiday where there is enough demand with the exception of: the Christmas holiday period and the final two weeks of the Summer Break. Where there is not enough demand to open, we will give as much notice as possible for those who have booked in.